Up early and cruising through all of my friends blogs and I saw this wonderful post from Shrimpton Couture contributor that shows a sneak peek of one necklace from the next batch of lovely pieces coming in just a few days! I have copied her post in full, because besides the peek of the future bling you can buy in
her section of Shrimpton Couture
, it also give you an idea of her impeccable style! I think we should ask for some of her other creations too, no? And if you want first dibs on this necklace let me know!
Enjoy!
_________________________

Costume of the day/sugar high
someone recently asked me how i maintain my layer-loving-look when the weather heats up? the answer is ice.

indeed, when i am unable to immerse myself in myriad textiles, i texturize by adding more bric-a-brac and bling. so let it be given that from now until approximately september i'll be having a mega
marie antoinette
moment (confession: i have been watching

sophia coppola's

film on
repeat while making jewelry).

i want candy! i want to crystallize this, ribbon tie that! i want tulle and satin and lace! i want to wear my cake and ice it
too.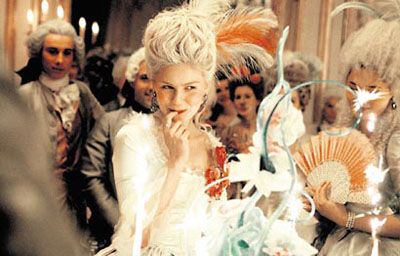 there is a symmetry then, that the sweet lovelies over at

ice.com

( ! ) just sent me the most dazzling earrings ~ on which i tied teensy-tiny silver bows. i tell you i just can't help it!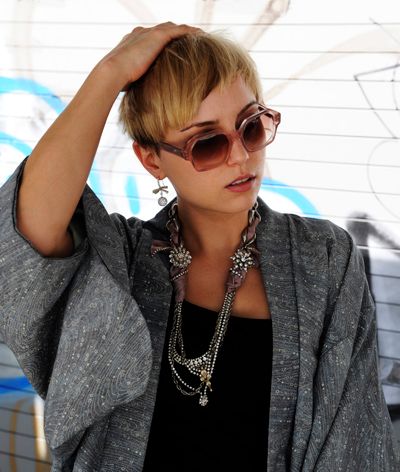 i also couldn't help wearing this necklace
just once
before shipping it off to shrimpton couture. sometimes it breaks my heart to part with things i've made -
my babies
!
- but unlike some other queens, i'm slowly learning how to share.

custom-made paper hat (the band was originally a
lanvin
belt),
ysl
sunnies, earrings from
ice.com
, self-designed necklace, vintage kimono (used to be floor-length, i had it shortened),
h+m
bandage dress,
prevata
lace booties, vintage
morris moskowitz
fur bag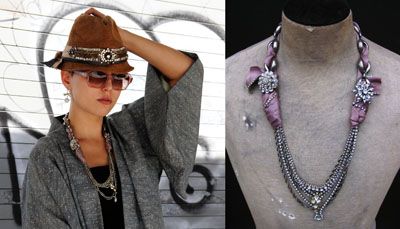 Update:
Sorry everyone but this one has been pre-sold!
Items can go fast at
Shrimpton Couture
- you have to snag em when you can!!